Rent business storage for stock in St. Gallen (Opening: 15 July 2022)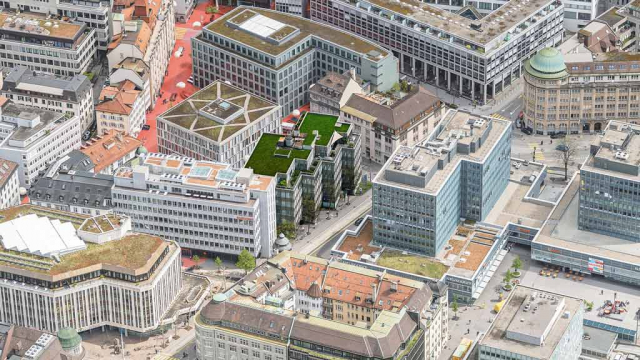 Zebrabox St. Gallen
Frongartenstrasse 24
CH-9000 St. Gallen
Tel. +41 (0)71 925 16 16

Postal address:
Leutschenbachstrasse 37
CH-8050 Zurich

Opening hours reception:
No permanent reception. Visits possible, please give us a call.

Access to storage:
Daily 6:00 - 22:00 h (24h on request)
When our 11th self-storage site opens, Zebrabox will celebrate the opening of our first site in Eastern Switzerland, enabling us to bring the latest standards in self-storage to the centre of St. Gallen. You will be able to choose from 170 storage units in various sizes located directly on the Roter Platz (Red Square) next to Raiffeisen Bank. They are ideal for archive storage of company documents as well as storing items such as exhibition and marketing materials.
Want to know what a storage unit looks like? Check out our virtual tour.
All the advantages of Zebrabox St. Gallen at a glance:
City centre location in the Roter Platz
Access to your unit at any time
Help to organise your move
Free parking
Fair billing (billing on a monthly basis, not on a 4-week basis)
«Our modern self-storage facility in St. Gallen provides the ideal solution for efficient archive and stock storage in the city centre.»
Andreas Bär
Sales Manager
Reasons to trust Zebrabox
Reasons to trust Zebrabox
Free access 7 days a week
Free access 7 days a week
Early bird or night owl? Our storage units are both. You can benefit from free access to your storage unit 7 days a week.
Individual and private
Individual and private storage units
What you store is only your business. Our storage rooms guarantee your privacy.
Security for you and your belongings
Security for you and your belongings
At Zebrabox you will feel safe! Every single storage unit is secured with an alarm and every facility is video-monitored 24 hours a day.
Dry and heated storage rooms
Dry and heated storage rooms
Do you own delicate goods? Our storage units are dry and heated, so that your goods will stay good both short and long term.
Rental from 1 week
Rental from 1 week
Do you need your storage unit only for a short time? Don't worry, at Zebrabox you can easily rent your storage unit from 1 week.
How to find us?
Directions
Zebrabox St. Gallen has excellent transport links to places such as Herisau, Wittenbach, Wil, Rorschach and Gossau. The site is located in Bleicheli at 25 Kornhausstrasse, so it couldn't be more central. From St. Gallen train station, you can reach the store in 3 minutes on foot. If you prefer to travel by bus, routes 2, 6, 8, 10 and 11 stop at the "Bleicheli" bus stop, located right next to the Zebrabox entrance, in under a minute.
Diverse uses for our storage units in St. Gallen
If you're looking for commercial storage space in the centre of St. Gallen then Zebrabox offers the ideal solution. With storage units starting from just 1m3 (up to 650m2 on request!), we can provide individual solutions that are perfectly tailored to your space requirements.
Files and documents sometimes have to be kept for several years due to legal retention requirements. That takes up space. Zebrabox provides archive storage to rent for precisely this scenario. Zebrabox protects sensitive documents and records: all buildings have 24/7 video surveillance, and all storage units are alarmed. We also regularly monitor the humidity and temperature at all of our sites.
If you have a sales team that needs to be able to react quickly and efficiently, then a Zebrabox can help. On request, Zebrabox can grant several people access to your storage unit. This means that your sales staff have constant – and above all independent – access to stock.
It is not just established companies and big organisations that need room, new and ambitious start-ups also require space and often don't want to take the risk of being tied into renting commercial premises for a long period. Thanks to flexible rental contracts with a short notice period of only 14 days, Zebrabox can grow steadily with the company and help minimise risk.
Even for companies that have their own office premises, space can get tight and rooms overcrowded – this is where a Zebrabox can also come in very handy. A Zebrabox can free up space to help improve productivity and create a nicer work environment. Companies that present at trade fairs and exhibitions can also benefit from the use of an external storage unit to store all the necessary material during the seasonal break.
Additional services
Zebrabox offers a convenient transport service for your business documents and warehouse stock. Thanks to our professional partners, your items are secure and you can save on organisation time. As a Zebrabox customer, you also benefit from a 20% discount.
If required, a storage unit used for commercial purposes can be fitted with shelves to allow easy, direct access to your documents in archive storage. On request, Zebrabox can even securely destroy and dispose of old documents or those that no longer need to be retained.
Not sure how much storage space you need or want to arrange a visit with no obligation? Just call us on +41 (0)71 925 16 16. Or book your storage unit directly online.