Relocating: Make your move easy

Is your moving day imminent? Are you starting to feel overwhelmed? Don't panic! Moving day chaos is only for people that are stressed out and don't have a plan. By following these tips, you can remain calm and take the stress out of relocating.

Take a deep breath iiiin and oooout – then continue to push and squeeze things in and hope that everything fits. This can go here – it fits. That can go in there – done. Phew. Finished. Everyone is pretty exhausted by the end but also proud and happy that everything has worked out. So, relocating is really a feat of strength but it's worth the effort and moving day itself will soon be a distant memory. Relocating is also a bit like a birth – with the small difference that everything has to get out and then back in again – into the new house.
No easy task. On average, people have 22 moving boxes to shift from A to B, although some people can easily fill 122 boxes. With books for example, shoes or handbags. The boxes are stuffed full with dismantled cabinets, various small pieces of furniture and lots of odds and ends.
Sound like hard work? It is! The more helpers you have to lend a hand packing, dismantling, rebuilding and unpacking, the more relaxed it usually is for everyone involved. Unless you've invited the chatterbox, lazybones or know-it-all from your circle of friends. Then your plan might backfire. Rule number one: know-it-alls etc. have to stay at home. Rule number two: with very dedicated helpers and the right preparation you can await your moving day calmly. Number three: look forward to relocating and being in your new home. Then you will automatically feel more relaxed. Now, start by taking a deep breath iiiin…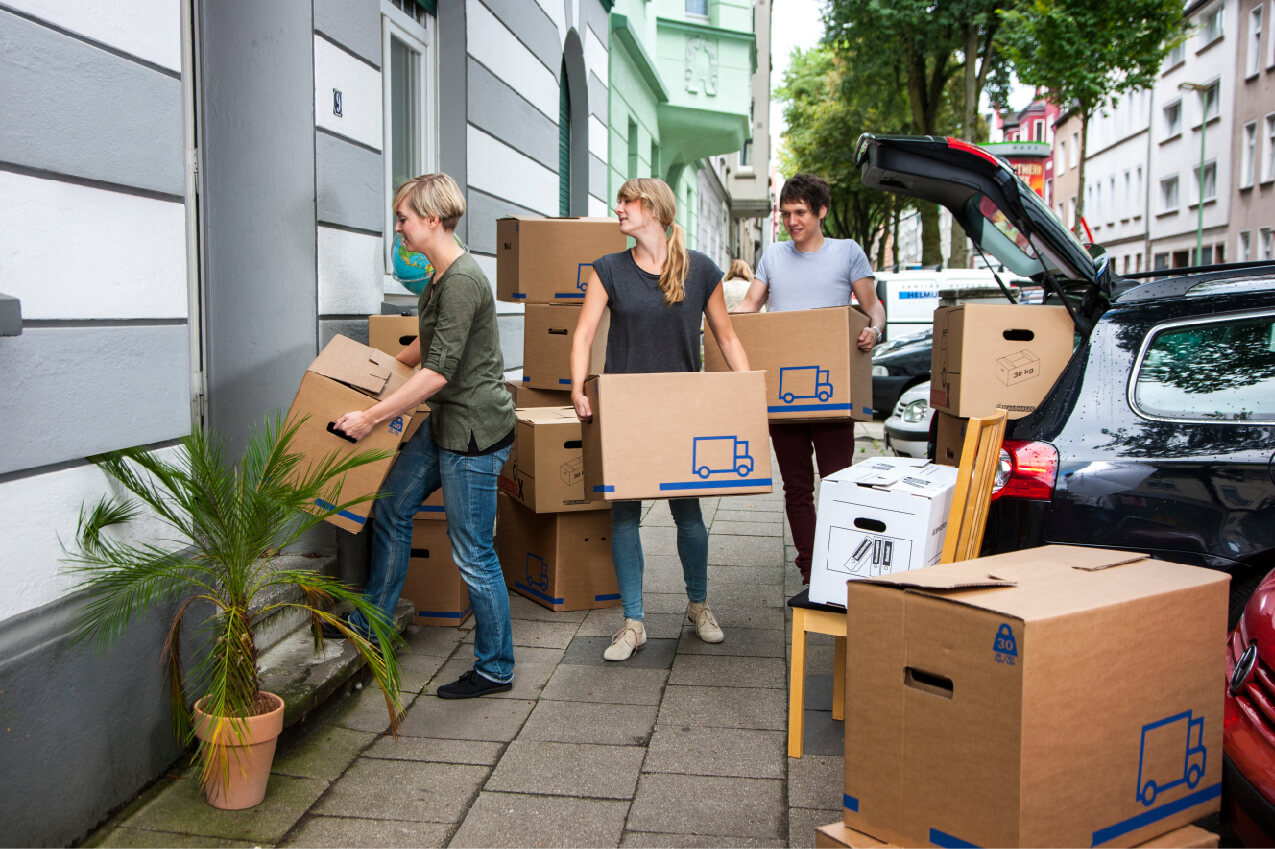 Relocating with a plan: relaxed and easy
An estimated one million house moves take place in Switzerland every year. That is 2,739 per day. Friday is the most popular day of the week for relocating, especially in Zurich – and the warmer months are also more popular. With many people choosing the same relocating dates, removal companies are in great demand. This can easily lead to shortages. If you already know your exact moving date – perhaps by chance a Friday? – then make sure to sort out your removal van and boxes well in advance and, of course, decide who is going to drive the van.

Planning is half the battle when relocating
Why do people decide to leave their old apartment and find a new one? The prospect of a larger apartment is the main reason why most people decide to take the plunge and begin the gruelling process of relocating. Moving in with a partner is another common reason.
But hardly anyone just moves overnight. There is usually lots of time from looking for a house, to signing the new rental agreement and giving notice on your old apartment (by registered post!) until moving day. Generally, about ten weeks. So, there's enough time to calmly plan and organise! It's important to start early. Early means one to two months before your moving date! You'll need to register your move, forward your post, change your telephone, internet and TV contracts or rather cancel them and then re-register. It is easiest to do this online. Taking a couple of days holiday to prepare for relocating can help to avoid stress.
Nevertheless, relocating is usually sweaty work often aggravated by over-full moving boxes with handles – and friendships – that are breaking. It's easy to get new boxes. It's not always so easy to suddenly get new helpers. So, let your friends know well in advance that you've got a big day planned on day X and ask them to keep that date free. You'll have something to celebrate, so find some glasses to raise a toast together. Cheers!

Master the art of decluttering
Old mugs, trousers that are too tight, overfilled wardrobes, drawers that are stuffed full: each of us hoards 10,000 things. When relocating, you can really feel the weight of it all and it then begs the question: do I need to bring everything with me or can I throw some things away?
If you ask the Japanese best-selling author and decluttering expert Marie Kondo, the answer is simple: yes – get rid of unused items. Things should bring you joy and happiness. If they don't – it's time to say goodbye! Just let it go. Simple. Marie Kondo is an expert when it comes to decluttering and her "KonMari method" is an effective way to clear out unused items. And let's face it: for many people, that is often the hardest part about relocating. But you don't need to throw everything away or take it to the dump (check times!). You can sell or even give some of your stuff away on the internet or at a flea market. How? Have a giving-away party with the neighbours. Or put your unwanted items in front of your house with a large cardboard sign "FREE - HELP YOURSELF!". That will make everyone happy. By giving your stuff away, you'll have more order, more space, more freedom in your new apartment. At the end of the day, both sides are happier: the recipient and you, because you and the environment have now got more space. Mission relocating complete! Moving house can be that easy.
Moving checklist (compact)
Moving checklist (detailed)