Tips and tricks for holidays at home

If you can't go on holiday or if you live in the city centre, then your outside space can be a real temple of relaxation. When did you last use your balcony to sunbathe or have breakfast with friends? For many people, that is just a distant memory. Over time, it is not uncommon for outside spaces to gradually become an extra storage area and enjoying your morning coffee in the sun might now be a thing of the past. But don't worry, there is always a solution. We've got tips and tricks to give your outside space a relaxed holiday feel.

Space for something new
Start by clearing out bulky furniture or items that you don't use regularly and store them in your basement or an external storage unit. Of course, you can also give unused items to friends or simply throw them away. If you only have a small balcony, there is no room for bulky furniture if you want to use this space for relaxation and enjoyment. Once your balcony is tidy, you'll have space for something new.
Patio and balcony flooring
Perhaps you haven't used your outside space much because the flooring simply isn't right. Luckily, there are numerous ways of designing such a nice floor that your friends might even consider moving to live on your balcony. First of all, you need to make sure the floor surface is clean. Then you can paint it a new colour or put down tiles. By using beautiful wooden tiles, for example, you can give the impression of being at the beach. Combine your flooring with a stylish outdoor rug. You will notice the difference immediately. But be careful – make sure to ask your landlord before making any changes.
Priorities
If you have a small patio or balcony then you'll need to choose. Do you want space to enjoy a BBQ and sunbathe or would you prefer to have space to eat with your friends? If you're planning on relaxing in the sun then you might need space for two or maybe three sun loungers. Whereas enjoying a delicious BBQ with friends, means that you'll need to have enough seats and a table available. So, how you decide to organise your outside space will depend on your priorities.
Lounging – furniture from Ikea
A sun lounger with a side table is the best way to get that sunny, beach-like feeling. The sun lounger needs to be slim and collapsible so that it can be stored away to save space when not in use. For your well-earned evening beer after work, use foldable tables and chairs to optimise space. You can get folding tables, which can be attached to the wall as well as space-saving balcony sets. If you want a seating area to lounge around in, then corner seating is a good option because it avoids wasted space. You can find a huge range of well-priced lounging solutions at Ikea. Bar stools are another great option for fitting as much seating as possible in your outside space. Another secret tip for you: get a chest. This is a truly versatile piece of balcony furniture. After taking the stools and table cloth out of the chest, you can simply put two soft cushions on top to instantly create two extra seats. Take care to buy cushions that are suitable for outdoor use.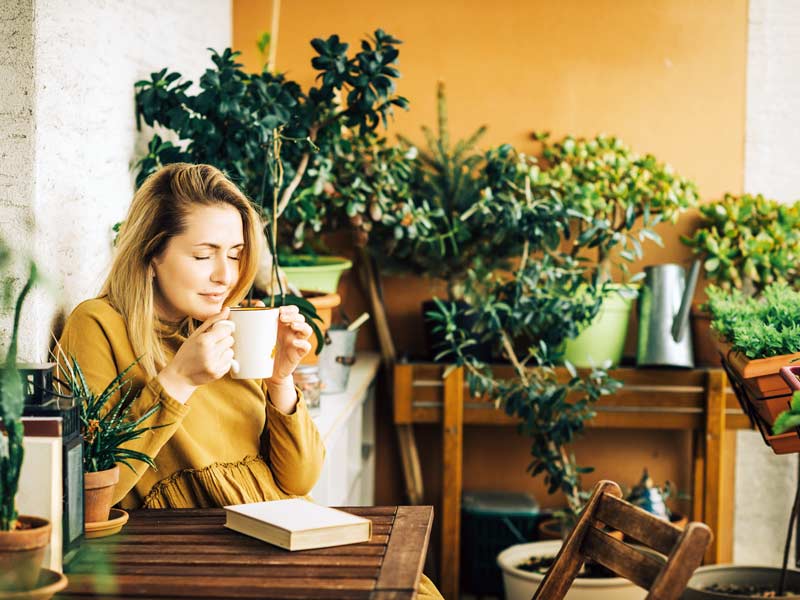 From the garden centre
You don't have to be an expert gardener to transform your balcony into a small, green garden of Eden. With our tips, the only thing you really need is a garden centre. First, you need to know whether your balcony is south or east facing. If you've got a south-facing balcony, we recommend plants that can cope with lots of sun and high temperatures. You can't go wrong with rosemary, thyme, lavender, basil, yucca palms, strawflowers, cacti, grasses and geraniums. If your balcony is east facing, then you should get plants that can handle direct morning sun as well as indirect sunlight. For example, begonias, busy lizzies, box trees, clematis, ivy, fan flowers, bellflowers and coriander. With a south-facing balcony, you will need to check whether your neighbours' balconies block any direct sunlight. If this is the case, it's best to opt for plants that are suitable for partial shade. If you're unsure or want to find out about special ornamental plants, then just ask at your local garden centre.
Extras and design
Design features on your balcony give it that extra special touch. Fairy lights, lanterns and attention to detail help create an inviting space that can be enjoyed well into the evening. Scented candles help keep away any nasty mosquitoes and at the same time create a lovely atmosphere for a candlelit dinner. A small tree or yucca palm in the corner is also a nice design feature. Use pots with small sunflowers and place them on the ledge. This gives you privacy while allowing you to enjoy the beautiful view.
Not sure where to store all the bulky furniture that you've cleared from your balcony? Or is your basement already full? Secure, flexible self-storage options are available from just one square metre. Click on the blue button below to find a suitable storage unit for your individual requirements.