Storing kayaks and SUPs correctly

The summer was so warm and sunny, but autumn cannot be diverted from its course. Your kayak or stand up paddleboard (SUP), on the other hand, unfortunately, can be. So, it's time to head for the harbour and prepare your equipment for winter. There are many good storage options for both indoors and outdoors. Read our tips and tricks for safely storing your kayak so that you can enjoy kayaking and stand up paddleboarding again next season.

Inflatable kayaks
Inflatable kayaks and stand up paddleboards are easy to store. Wash your equipment with tap water and let it dry. After you let the air out, simply roll it up and store it in a cool, dry place. Your basement might, therefore, not be the ideal storage place due to higher humidity levels. Direct UV radiation should also be avoided.
Non-inflatable kayaks
With the right precautions, you can store your kayak or SUP in your garage, your attic, or in an outdoor area. But indoors, it is easier to create the right conditions for safely storing your summer equipment over winter. Either way, there are two different storage options: a rack or a sling system.
Rack
You can either buy the rack or build it yourself. It stands on the floor, preferably against a wall, to save space. Your kayak or stand up paddleboard should lie on a rack that is designed to fit the shape of your equipment. This way the weight is better distributed and you avoid deforming the material.
Suspension strap system
With a suspension strap system, several wide straps or slings completely wrap around the kayak or SUP and suspend the equipment from the ceiling. One narrow strap alone leads to one-sided loading of the equipment and, in the long term, to bending. We therefore advise you not to use the existing brackets on the boat or board for fixing to the ceiling. For the same reason, the straps also shouldn't be wrapped too tightly around your equipment.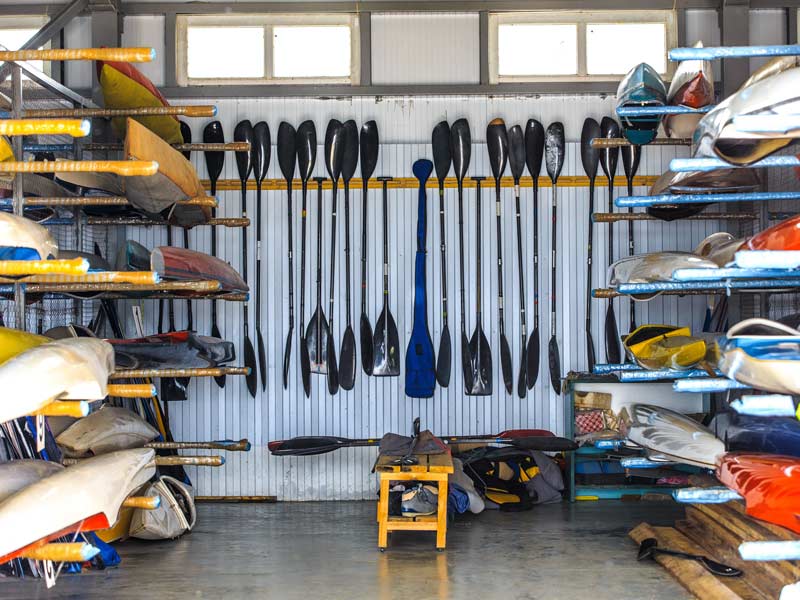 Climate conditions
Heat: the greatest potential for damage is heat. Store your kayak or paddleboard in a cool place.
Sunlight: protect your canoe or SUP from UV light as well.
Cold: constant freezing and thawing causes damage to the material.
Moisture: too much moisture also destroys the material over a long period of time. A waterproof cover should therefore be used when storing your kayak or SUP outdoors. The cover shouldn't touch the equipment directly, but should leave some free space.
Cleaning
Even if all the external factors are controlled, the cleanliness of the equipment is also very important. Remove sand, dirt and salt water residues with soap and water. Do not use chemicals. Also, remember to remove paddles and bags from inside the kayak or SUP to prevent further dirt from accumulating.
No room at home?
You should now be optimally prepared for the winter and looking forward to the next season – unless you have limited space at home. Kayaks and stand up paddleboards are not exactly small and take up quite a bit of space. If neither your indoor nor outdoor area offers enough space to store your summer sports equipment, then external storage units are another option.
Zebrabox is the leading self-storage expert in Switzerland and can offer you flexible and individual solutions. Zebrabox's video-monitored storage units not only give you more room, but also ensure that your equipment remains intact thanks to strictly controlled temperatures and humidity levels.