Put an end to cable chaos – finally restore order

Lots of devices, lots of cables. It's a familiar problem. Despite your best efforts, cables are still running all over your home. Loudspeakers, phones, standing lamps, computers and screens compete ruthlessly in the cable marathon. Are you constantly tripping over cables? Does your home look a mess because of them? Don't worry. Read our tips for finally getting your dust collectors off the floor and out of sight.

Restore order to your cables
Even long cables needed for big distances, such as between your TV set-top box and your sockets can be organised using cable trunking. Skirting board trunking or over-floor trunking can discreetly conceal lots of unsightly cables. In an old building, for example, where sockets are scarce and you can't do without extension cables and socket strips, cable trunking is a good way to restore order. Both self-adhesive trunking as well as trunking designed to be screwed into the wall or floor are available. Cable clips are another flexible option for running several cables around door frames and skirting boards. Alternatively, a cable wrap offers an even more flexible solution. It is a simple and tidy way to contain cables and they are easy to use thanks to wrapping tools such as Velcro ties and cable zippers.
Bulky plugs, sockets etc.
Even multiplugs, extension leads and power adapters have a tendency to pile up. They attract dust and can become a bit of an eyesore. Luckily, there are solutions available, such as these attractively designed cable boxes. These simple containers come in a range of sizes and swallow up your bulky items while allowing the cables to pass in and out in an orderly way. If your cables are too long, you can tie the excess together and even hide it away in the box. You can use classic cable ties or Velcro cable ties to help you. If using traditional plastic cable ties, make sure to use a releasable version so that you can adapt your cable management system at any time.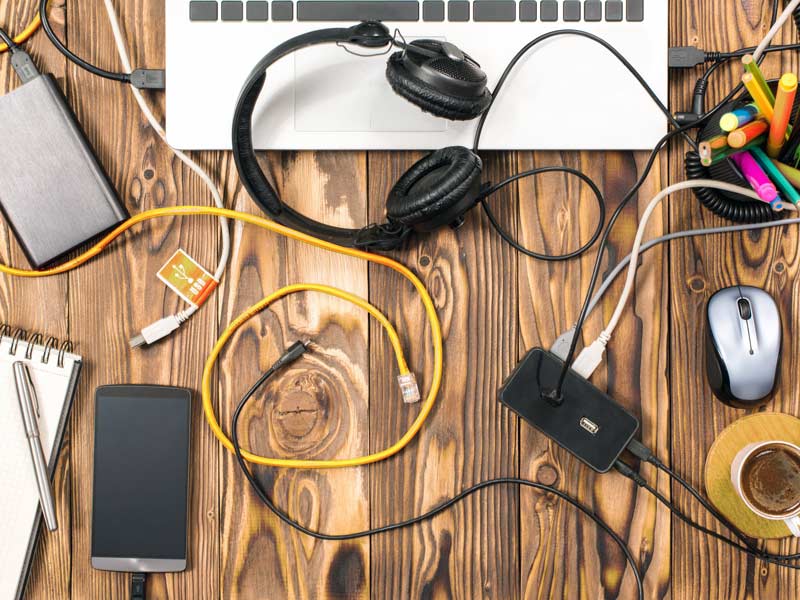 Home office, 365 days in the office
In times such as now during the coronavirus crisis, it is good to feel as comfortable as possible at home. You don't want to be tripping over unnecessary items in your home office or having to explain the effort required to untangle your "cable spaghetti" to your boss. With a few simple tricks, you can make the cable clutter under your desk disappear. In addition to a cable box, try using a desk cable port or a concealed multi-plug. If you need constant access to your chargers and connection cables, then the best option is to use a desktop cable organiser or cable clamps. Do you still have your LEGO figures? Then they could take your cable problem literally into their own hands!
Bluetooth and wireless
Using wireless devices still remains the best way to avoid lots of tangled cables. You can get induction charging stations for mobile telephones, Bluetooth speakers and even whole sound systems, which you can easily link up to your home network for access throughout your house.
If you also want access to a room for all your devices and cables, then Zebrabox has the perfect solution for you. Devices that have way too many cables or that are no longer frequently used can be easily stored away with us. We have a large selection of centrally located, video-monitored storage units ranging from 1-50m2 here for you to choose from. Click on the blue button below and find your made-to-measure storage solution.