Storing Christmas decorations correctly

The Epiphany has already taken place and it's getting harder to fit the last biscuits into our overstuffed stomachs. You need to get rid of your Christmas tree soon and your decorations need to give way to the looming longing for spring. But what can you do differently this time when storing the Christmas decorations so that next Christmas you won't spend hours untangling fairy lights again, picking up broken Christmas ornament shards and inventing new swear words? Relax. We have some simple tips for you that will spare you the anxiety.

Christmas ornaments
It is probably very hard to find someone who has never broken a Christmas ornament. The delicate round Christmas essentials therefore require special attention when being stored. Each ornament should have its own compartment to prevent them from rubbing against each other. Standard egg cartons are perfect for small ornaments. They are free and provide ideal protection. You can also use the plastic sleeves from Schokoküssen (chocolate-coated marshmallow treats) to package small Christmas ornaments. Paper cups are also a good solution to separate decorations. By the way, you can use tissue paper to help cushion anywhere. Wrap it around ornaments and fill gaps with it to dampen impacts. Better safe than sorry. You can now pile up the filled individual containers in shoe boxes or cardboard boxes. Separate the levels with a cut layer of cardboard. For larger Christmas ornaments you can also use cardboard boxes or practical storage boxes. The key point here is inserting partitions. You can make these yourself by using cardboard scrap. They should adhere to the respective bottom element well so that the ornaments remain in tact when preparing for your next season. The nice thing about making them yourself is that you can adjust the insert compartments to the size of your ornament arsenal. To fit a lot of ornaments into one box, it is best to stack several layers of cardboard with well-secured partitions on top of each other in a sturdy Euro box.
Fairy lights
The annoying untangling of fairy lights can cost you a lot of contemplative Christmas time. Fortunately this doesn't have to be the case. Take a square of cardboard and cut a couple of notches at the top and bottom. Secure the first element of the fairy lights on the outermost notch and now wrap the lights around the cardboard through the notches. This is a simple and cheap way of saving energy with long decorative chains too. Either you also take a piece of cardboard or you carefully fill a PET bottle with the strand. You should turn it so that the lights pile up inside the bottle in a circular fashion. In the lid of the plastic bottle, you can cut an opening and a notch using a utility knife. Now you can clamp the last element of the strand in the lid and you can have peace of mine again for a year.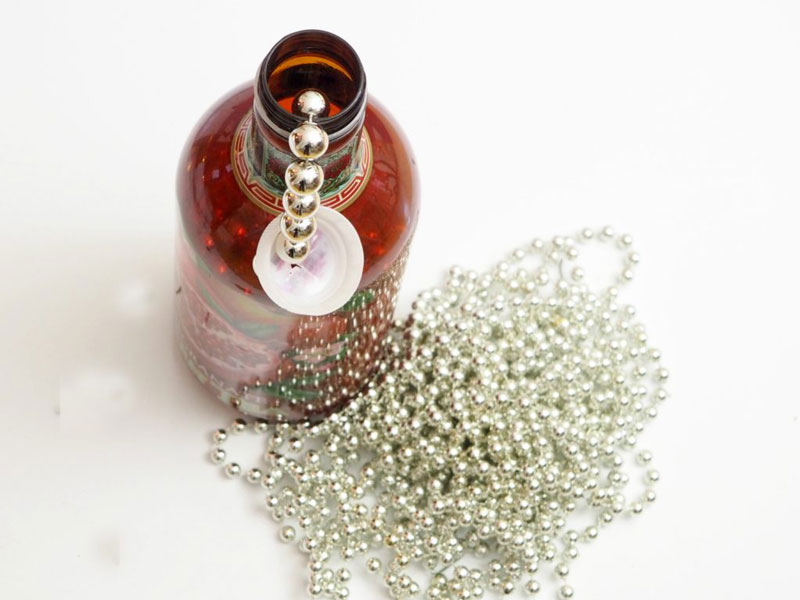 Wrapping paper
When you finally have collected the gifts for your loved ones, there is nothing more annoying than realizing that all of the wrapping paper was crumpled when it was stored. You rush to the endless queues at the nearest shopping centre and already invent your next curse word. To avoid this annoyance, you can easily get yourself a cheap wrapping paper organiser. The transparent garment bag is another alternative, which you simply fill with the wrapping paper rolls.
Organisation
Make sure you have a system when storing your Christmas decorations. Your future Christmas self will thank you when you can tell at a glance what is located where. So put similar items in the same box. One box for the nativity and accessories, one box for the Christmas tree toppers and another box for your craft accessories. Labelling is a tremendous help if you have lots of small boxes that add up and sometimes are even put together in a bigger box. Make a small label for each box that clearly identifies it so that you know in seconds what it contains when the time comes. Are there other things that you never use or that are slowly getting on your nerves? Give them away to others or sell them so that you have more space for your essentials.
Are you lacking space in general for all of the Christmas decorations that have accumulated over the years? Or are your surfboard and canoe blocking the basement or garage the whole winter anyway? Then check out Zebrabox. They offer central storage rooms of any size, which you can cancel flexibly.