Carefree trip around the world - how to get your life adventure started!

Who has never dreamed of travelling the world? You might be longing for a trip of self-discovery, have a desire to see far-off places or relish the chance to escape from everyday life. As soon as the idea pops into your head, you should start the planning process. Good things take time. With a clear plan, nothing can get in the way of your trip of a lifetime. We will show you how to start planning and what to do to turn your dream into reality.

It will be worth the wait
Take time to plan and try to approach the planning process calmly to avoid any stress before you head overseas. You will also need to have a bit of patience. The administrative side of preparing for a trip is notoriously slow and a visa application might only be accepted the second-time round. Time and patience are therefore the first things you need to pack.
Nothing in life is free
Unfortunately, nothing is possible without money. Not even when travelling the world. Work out in advance how much money you want to be able to spend per day on average. Separate your budget into running costs (costs for insurance etc.) and costs that are incurred while travelling.
It is best to try and keep your home expenses as low as possible to give you more money for the trip. So try to either cancel or suspend all of your subscriptions and contracts that you don't need while you're away. To avoid any extra hassle during your trip, the easiest way to pay ongoing expenses is by standing order, direct debit or e-billing.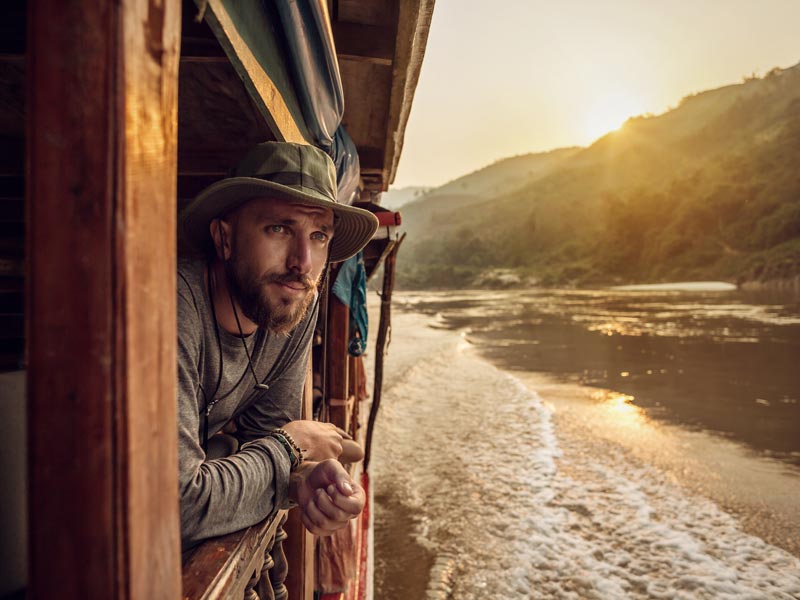 If not now, then when?
There is no perfect time to travel. It all depends on what you want to experience. Even a rainy season can have its charms and travel during the off-season is sometimes recommended. When planning your route it is important to consider the climate zones of the countries that you wish to visit. Take a close look at the climate tables and work out your own ideal timings for your trip. Click here to see the worldwide climate tables and plan your route accordingly.
We have put together some sample itineraries lasting three, six and nine months taking into account the best weather conditions for travelling.
---
Route No. 1 – Around the world in three months
South Africa - Indonesia - Australia - Fiji - USA
In just three months you can experience a lot and visit stunning places around the world. This trip recommends starting in South Africa in mid-March, before exploring Australia, Fiji and the USA to make the best of the climate (see image below).
---
Route No. 2 – World tour in 6 months
Thailand - Laos - Cambodia - New Zealand - Chile - Argentina
For a six-month trip, we recommend travelling through Southeast Asia over the South Pacific to South America. By starting in Thailand in October and reaching your final destination of Argentina in March, you will get the best of the weather throughout your trip (see image below).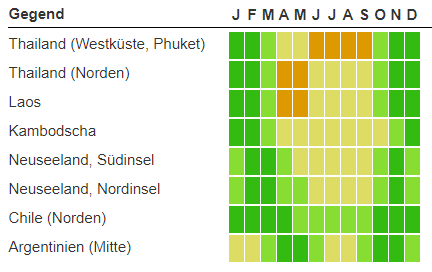 ---
Route No. 3 – Three continents in nine months
North Africa - Namibia - South Africa - Madagascar - Indonesia - South Korea - Hawaii - Japan - USA
You can experience a lot in nine months. Starting your trip in July allows you to travel from North to South Africa, then through Asia to Hawaii and then finally to touch down in the United States (see image below).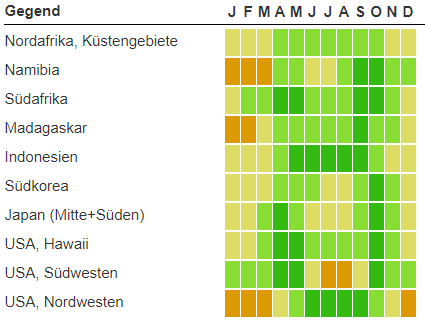 ---
Entry visas and important documents
Make a rough plan of the countries that you would like to visit. Then apply for any necessary visas for the relevant countries as soon as possible. Consult your doctor or visit a specialised travel and tropical medicine clinic well in advance of departure for health advice and vaccinations against tropical diseases if required. The vaccinations must be recorded on an international certificate of vaccination issued by the WHO, which you can get from your doctor. If you decide to rent a car while travelling, you will need an international driving licence. Other documents you should take with you include: a student card and copies of your passport or photo ID. Save copies of all your documents securely in a virtual cloud and keep photocopies.
Unsure whether or not you need a visa, which vaccinations are required or where you can obtain an international driving licence? The FDFA Helpline can provide you with further information.
Safety is key
Illness, theft or a lost suitcase can all cause great upset. But having the right insurance can minimise hassle and ensure that your whole trip isn't compromised. Check in advance which insurance you need and what your current insurance already covers. Many credit card providers also already include travel insurance amongst their services. It is worth checking this if you book your trip with a credit card to avoid having multiple overlapping insurance policies.
In our Stays abroad checklist we have provided a concise summary of the topics mentioned above as well as important tips on health insurance, necessary administrative procedures and returning to Switzerland.
Empty flat, unused furniture
Sell, give notice or sublet? There are various options when deciding what to do with your empty flat while you are away. If you don't want to give up your flat, then subletting is a possibility. Speak to your landlord and get their written approval. You can then sublet your flat using various internet portals. Make sure to do it early, you might not find a suitable tenant straightaway. Discover the best way to sublet your flat in our Survival Guide.
If you decide to sell or give notice on your flat, then you need to decide what to do with your furniture. The best way to approach this is to make a list of the furniture that you want to keep. Anything not on the list can then be sold, given away or disposed of if necessary.
If you are giving up your flat or removing your furniture from your flat while you are subletting it, then temporary storage is the perfect solution for you. At Zebrabox it doesn't matter how much space you need, we offer everything from small to large storage units. You can also be sure that your furniture is in the best hands thanks to our air conditioned and dry units.
We hope that you enjoy reading our tips on planning a trip around the world but please bear in mind that they are not intended as a comprehensive guide. We just aim to give you a good starting point and wish you lots of breathtaking and unforgettable experiences.