DIY home workout space
Do you want to save money on your annual gym membership? Then set up your own home workout area with our top tips. Discover our 6 space-saving tips for planning and setting up your own home gym. With these life hacks you can create your own exercise area even when space is limited.
Tip 1: Workout corner with wall bars
If your priority is to set up the most space-efficient home gym, then creating a workout corner is by far the best option. You can easily store your exercise equipment away in the corner and keep the centre of the room free. Install a wall bar on one side of the corner. You can use it for hanging resistance bands and towels over as well as for a variety of training exercises. For example, you can use it to attach a TheraBand, do chin-ups or stretch different muscle groups after training.
Tip 2: Space-saving peg board
If you really want to climb around like a monkey then buy or build yourself a peg board. As well as using it as a climbing wall, you can also use the wooden pegs to hang and stow away your resistance bands and weights. This keeps the floor clear and allows the room to be used for other things.

Tip 3: The ceiling – the invisible wall
The ceiling is often left out of the planning process, however, making use of the ceiling can be a fantastic way to save space when setting up your own home gym. Install a couple of brackets on the ceiling and you'll have endless space for hanging up your exercise equipment. This also keeps the floor free and your training varied. For example, you could use the ceiling mount to hang a TRX band, two gymnastics rings, a trapeze bar or a climbing net, then you can work up sweat to your heart's content!
Tip 4: Gym equipment in your home
Prefer working out with professional equipment like at the gym rather than using your own bodyweight? But also need to save valuable space in your own home? No problem, there are lots of multi-exercise workout stations designed for just this purpose.
Tip 5: Order and organisation
Everyone knows that as soon as you take your eye off the ball everything can end up in a mess and you can no longer find anything. That's why perforated panels are not just popular in kitchens and workshops. They are very useful for attaching light and mid-weight items. Wall-mounted coat racks and tool storage rails are also great space-saving storage solutions. For heavy items, such as dumbbells or kettlebells, specifically designed racks and stands are available. Mats and towels are best stored in a basket. Your equipment should now be well organised ready for your home gym workout.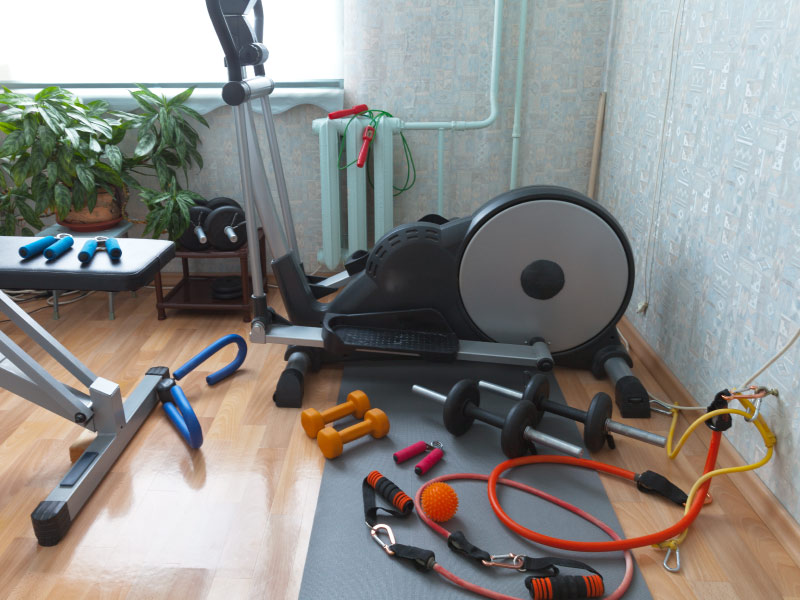 Tip 6: Decoration and motivation
It's not just the equipment that needs to be organised, but also the training. Successful training needs a plan and clear aims. This is easily achieved using an app such as "Freeletics" and a simple wall chart, where you write down the aims and outcomes of each workout. To really motivate yourself, it's worth creating a nice atmosphere in your home gym. Decorate the space with plants, pictures and a mirror.
Still not enough room despite these space-saving tips?
If you find that you still don't have enough space for your DIY home gym despite all these life hacks, then self-storage is always another option. With an external self-storage unit, you don't need to throw anything away and you can make space for what matters to you.
At Zebrabox you can find private storage units in central locations and starting from only one square metre of rental space. The humidity levels and temperature of all our storage units are regularly checked and the units are fitted with the relevant security devices in accordance with recognised standards. They are also ideal in terms of logistics for moving furniture in and out.