Rent storage space in Winterthur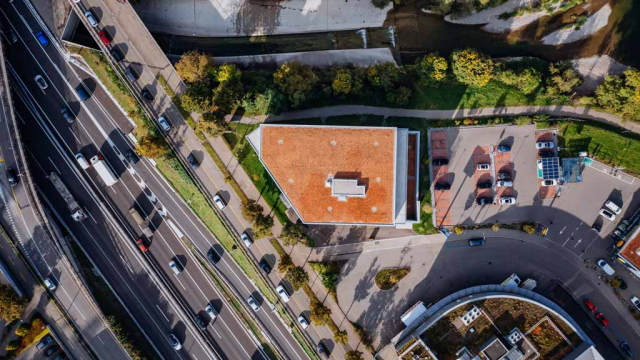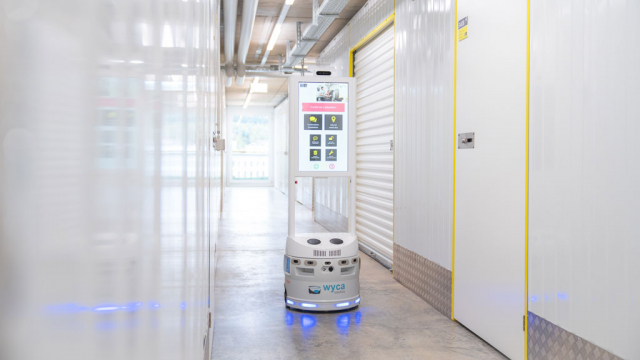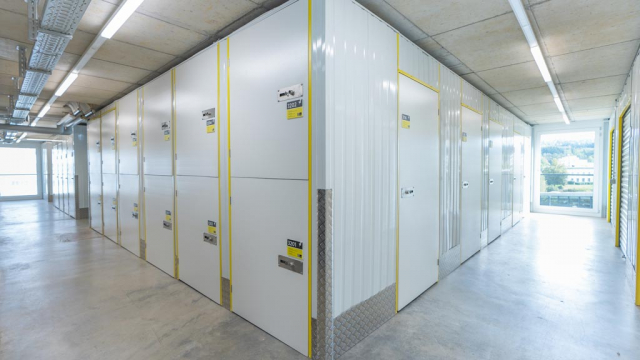 Zebrabox Winterthur
In der Au 14
CH-8406 Winterthur
Tel. +41 (0)44 306 70 20

Postal address:
Leutschenbachstrasse 37
CH-8050 Zürich

Opening hours reception:
No permanent reception. Visits possible, please give us a call.

Access to storage:
Daily 6:00 - 22:00 h (24h on request)
Zebrabox in Winterthur is our tenth self-storage facility in Switzerland and Zebrabox's first self-build. The store is located in the industrial park directly adjacent to the A1 motorway at the Winterthur-Töss junction near Lidl and TopCC. Located over several floors, our 200 individual storage units ranging from 1-50 m2 are the ideal storage solution no matter how much room you need. Larger spaces up to 650 m2 are also available to rent on request.
Want to know what a storage unit looks like? Check out our virtual tour.
All advantages of Zebrabox Winterthur at a glance:
Self check-in (daily 06:00-22:00)
Time-independent visit
Covered loading and unloading
Loading ramp / lifting platform for trucks
Organization of your move / transport
Packing material on site
Free parking
Fair billing (billing on a monthly basis, not on a 4-week basis)

"We look forward to welcoming you to our brand new site in Winterthur. Thanks to state-of-the-art technology and outstanding infrastructure, a first-rate self-storage experience is waiting for you."
Andreas Bär
Sales Manager Winterthur
Reasons to trust Zebrabox
Reasons to trust Zebrabox
Free access 7 days a week
Free access 7 days a week
Early bird or night owl? Our storage units are both. You can benefit from free access to your storage unit 7 days a week.
Individual and private
Individual and private storage units
What you store is only your business. Our storage rooms guarantee your privacy.
Security for you and your belongings
Security for you and your belongings
At Zebrabox you will feel safe! Every single storage unit is secured with an alarm and every facility is video-monitored 24 hours a day.
Dry and heated storage rooms
Dry and heated storage rooms
Do you own delicate goods? Our storage units are dry and heated, so that your goods will stay good both short and long term.
Rental from 1 week
Rental from 1 week
Do you need your storage unit only for a short time? Don't worry, at Zebrabox you can easily rent your storage unit from 1 week.
How to find us?
Directions by car
The Zebrabox storage facility is very conveniently located, it has direct motorway access and is less than a 5-minute drive from the centre of Winterthur. The entrance and the customer parking area are located right next to the Winterthur-Töss motorway exit near Lidl and TopCC.
Directions with public transport
From the centre of Winterthur take bus route B1 (Winterthur/Töss). Get off at the Töss bus stop and it is a 5-minute walk.
Convenient storage in Winterthur
There are several trolleys and two goods lifts on site available for your use. This makes transporting your furniture or other belongings to your storage unit exceptionally easy. Moving your items is straightforward whatever the weather thanks to our covered loading area. A handy lifting platform also saves a lot of effort when unloading from a lorry.
Our video-monitored facilities protect your goods and belongings at all times of the day and night! Each storage unit in Winterthur is secured by an alarm system and the entire facility is under 24-hour video surveillance. Sensitive items, such as antique furniture and art, are best stored in climate-controlled storage units with a stable temperature and suitable humidity level. Our storage units in Winterthur are therefore also ideal for storing furniture that is not currently being used. You can enjoy flexible access to your Zebrabox storage unit 7 days a week.
At Zebrabox self-storage is simple and convenient, whether you want to store a few folders or even your entire household belongings. We have storage units in all dimensions. Self-storage solutions provide extra space in addition to your basement or spare room for skis or other sports equipment, winter and summer tyres, garden furniture, sledges, bikes, and other household belongings. Store your items for the time that suits you. Our storage units are available to rent for as little as one week and you can keep storing with us for as long as you need. You can rent our storage units temporarily to store your furniture during renovation work. Or if, for example, you don't have a basement and are looking for a long-term storage solution, you can take advantage of Zebrabox's attractive discounts.
Don't worry if you're not sure how much storage space you need or how big your storage unit should be. That's what our Zebrabox team is here for and they will gladly help you to work out the right size. Call us on +41 (0)44 306 70 20 or book your Zebrabox storage unit in Winterthur easily online.
Useful extras all in one place
Want to visit your storage unit by yourself and whenever you like? No problem! Our self check-in is available on-site every day between 06:00-22.00. You can book independently online and start storing straightaway. If you have any questions, please contact us on +41 (0)44 306 70 20.
Want to enjoy a stress-free move? Then let us organise your move for you to save you time and give you peace of mind. If you prefer to do it yourself, then our Zebrabus delivery van is at your disposal.
Our packaging shop at our Winterthur site has a self-service area and we stock a large range of high-quality packaging material. Whether you're looking for moving boxes in a variety of sizes, protective covers or tissue paper; you will find everything you need for your move.