Rent storage space in Spreitenbach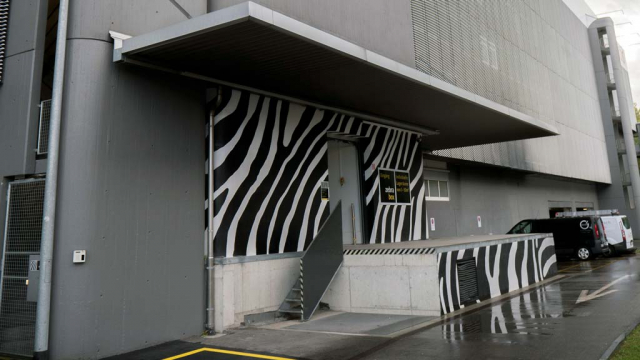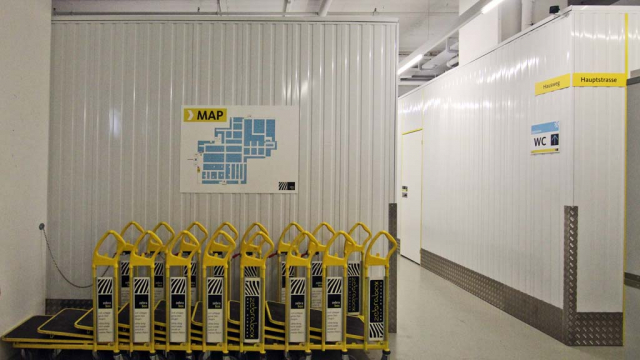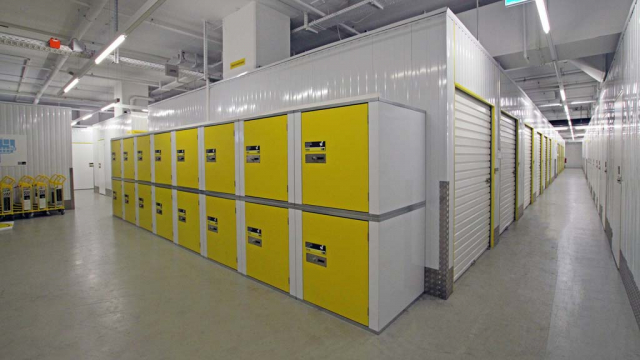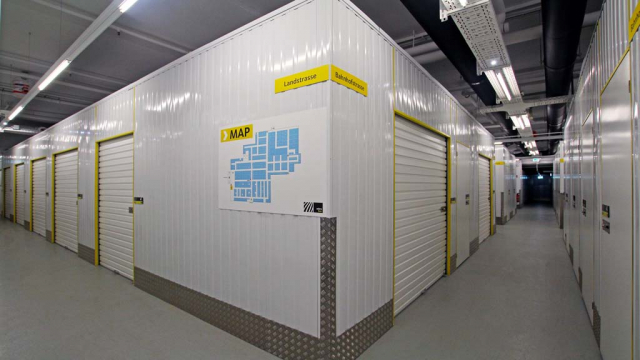 Zebrabox Spreitenbach
Shopping Center Shoppi Tivoli
CH-8957 Spreitenbach
Tel. +41 (0)56 250 15 15

Postal address:
Leutschenbachstrasse 37
CH-8050 Zurich

Opening hours reception:
No permanent reception. Visits possible, please give us a call.

Access to storage:
Daily 6:00 - 22:00 h (24h on request)
Our Spreitenbach branch is located in the region of Aargau and close to the city of Zurich. We offer 450 private storage units for rent in the well-known Tivoli Shopping Centre near Dietikon and Killwangen, which has excellent transport links. You can deliver your belongings easily using our own private entrance. The spacious loading ramps are also perfect for larger deliveries by truck.
Want to know what a storage unit looks like? Check out our virtual tour.
All advantages of the Zebrabox Spreitenbach at a glance:
Time-independent visit
Loading ramp / lifting platform for trucks
Organization of your move / transport
Free parking
Fair billing (billing on a monthly basis, not on a 4-week basis)

"Rent your own private storage unit in Shoppi Tivoli Shopping Centre in Spreitenbach. Whether you just want to store a few boxes or are looking to store your entire household belongings, our experts will find the perfect storage solution for you."
Andreas Bär
Sales Manager Spreitenbach
Reasons to trust Zebrabox
Reasons to trust Zebrabox
Free access 7 days a week
Free access 7 days a week
Early bird or night owl? Our storage units are both. You can benefit from free access to your storage unit 7 days a week.
Individual and private
Individual and private storage units
What you store is only your business. Our storage rooms guarantee your privacy.
Security for you and your belongings
Security for you and your belongings
At Zebrabox you will feel safe! Every single storage unit is secured with an alarm and every facility is video-monitored 24 hours a day.
Dry and heated storage rooms
Dry and heated storage rooms
Do you own delicate goods? Our storage units are dry and heated, so that your goods will stay good both short and long term.
Rental from 1 week
Rental from 1 week
Do you need your storage unit only for a short time? Don't worry, at Zebrabox you can easily rent your storage unit from 1 week.
How to find us?
Directions by car
From Zurich follow the highway A1 direction Bern and take the exit 58. Follow direction Spreitenbach. After the passage underground follow direction Shoppi Tivoli. You will find Zebrabox on the side of the Shoppi Tivoli.
Directions with public transport
Coming from Zurich: With the S-Bahn S12 until Dietikon. Change into the bus NFB 303 and get out at the Shopping Center. Coming from Baden: With the S-Bahn S12 until Killwangen. Here you take the bus NFB 4 until Shopping Center.
Convenient storage in Spreitenbach
The security of your stored belongings is our top priority. Therefore, each of our 450 private storage units, not far from Würenlos and Kirchfeld, have individually alarms and the entire site is also under 24-hour video surveillance.
You have free access to your individual storage unit 7 days a week and each unit has a constant temperature and low humidity throughout the year. Thanks to these optimum storage conditions, you can also safely store items that need extra care, such as furniture or pictures. With us, your belongings are in safe hands.
In our Shoppi Tivoli branch, you will also receive our usual excellent Zebrabox service. Want to store your furniture over a long period or need a temporary storage solution during your planned renovations? With Zebrabox, you are always flexible because you can rent a storage unit immediately for a minimum rental period of just one week and you can stay for as long as you need. Thanks to the short cancellation period of 14 days, you only need to rent a storage unit for as long as you actually need it.
Not sure how much space you need for your items? Let our customer advisers help you to find your perfect storage unit. Contact us on +41 (0)56 250 15 15 or go online to find your perfect Zebrabox.
Additional services all in one place
Would you like help relocating? Zebrabox is here to help you move. We can organise your move together with our selected professional partners, so you do not have to worry about a thing and everything is organised from one place.
If you would prefer to move by yourself, then don't hesitate to contact us about our Zebrabus removal vans.