Rent storage space in Ittigen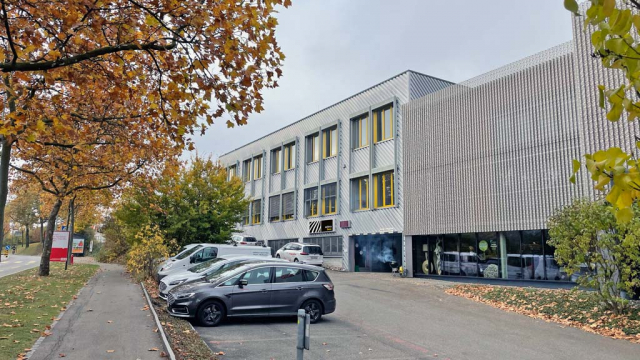 Zebrabox Ittigen
Ey 25
CH-3063 Ittigen
Tel. +41 (0)31 371 84 48

Postal address:
Eigerstrasse 82
CH-3007 Bern

Opening hours reception:
No permanent reception. Visits possible, please give us a call.

Access to storage:
Daily 6:00 - 22:00 h
(24h on request)
A new Zebrabox branch is opening in Bern in the Eyfeld district of Ittigen. The site in Ittigen will increase the number of heated, dry and secure storage units available in the city by around 175. Zebrabox Ittigen caters for the municipalities of Ostermundigen, Bolligen, Zollikofen, Bremgarten, Stettlen and Muri as well as areas to the north of the city centre. The variety of different-sized storage units and the modern facilities ensure that all storage requirements can be met.
Want to know what a storage unit looks like? Check out our virtual tour.
All advantages of the Zebrabox Ittigen at a glance:
Time-independent visit
Central city location near Kirchenfeld, Breitenrain and Länggasse
Covered loading and unloading
Lifting platform for trucks
Organization of your move / transport
Free parking
Fair billing (billing on a monthly basis, not on a 4-week basis)

"We offer 175 storage units with brand-new infrastructure and direct motorway access so that you can transport and store your items easily in Ittigen, Bern."
Peter Kiener
Store Manager
Reasons to trust Zebrabox
Reasons to trust Zebrabox
Free access 7 days a week
Free access 7 days a week
Early bird or night owl? Our storage units are both. You can benefit from free access to your storage unit 7 days a week.
Individual and private
Individual and private storage units
What you store is only your business. Our storage rooms guarantee your privacy.
Security for you and your belongings
Security for you and your belongings
At Zebrabox you will feel safe! Every single storage unit is secured with an alarm and every facility is video-monitored 24 hours a day.
Dry and heated storage rooms
Dry and heated storage rooms
Do you own delicate goods? Our storage units are dry and heated, so that your goods will stay good both short and long term.
Rental from 1 week
Rental from 1 week
Do you need your storage unit only for a short time? Don't worry, at Zebrabox you can easily rent your storage unit from 1 week.
How to find us?
Directions by car
Exit the motorway at the Wankdorf junction in the direction of Ittigen. Continue along Papiermühlestrasse. Zebrabox is on the left (3 minutes). From the centre, drive to Wankdorf Stadium and follow Papiermühlestrasse in the direction of Ittigen (13 minutes). Zebrabox is on the left.
Directions with public transport
From the main train station, take the S7 line in the direction of Worb Dorf to Papiermühle station (14 minutes). From Papiermühle station, walk south-west along Papiermühlestrasse (6 minutes).
Convenient storage in Ittigen
Zebrabox Ittigen provides an efficient self-storage experience. Located only a stone's throw from the Bern-Wankdorf motorway junction, you can park for free in one of the four parking areas or use the roofed loading area. There are plenty of trolleys on site for moving your items easily into your Zebrabox unit using our goods lift.
You have free access to your storage unit every day. Zebrabox Ittigen provides an ideal set-up designed to the latest standards. Thanks to climate controls, sensitive storage items such as antiques, collectors' items and works of art are protected. The storage units are also monitored 24/7 using video and alarm systems.
Zebrabox offers storage boxes for use straightaway and from a minimum rental period of just one week, so we can easily cater for both short-term and long-term storage needs. We're here for you whatever your situation – whether you're moving house, renovating, travelling abroad or simply running out of space in your basement or living room. Cancelling your Zebrabox is just as flexible thanks to a cancellation period of just 14 days. After your minimum contract period has elapsed, you can cancel your rental contract at any time in writing (e-mail) or by phone.
Finding it hard to decide how much space you need or have more questions? Call +41 (0)31 371 84 48 for answers and help from our competent storage experts. You can also book your Zebrabox easily from home and start storing straightaway.
Additional services all in one place
Feeling stressed about your move or simply don't have enough time to pack? We can organise your move for you together with our professional partners – your furniture will be in its new home in no time. Just call us on +41 (0)31 371 84 48.
Would you like to see inside a storage unit first before renting? Give us a ring on +41 (0)31 371 84 48 to arrange your visit. Let us show you around on a tour of the site with one of our experts.