Storing skiing gear - getting it right!

You've made a few more turns and the snow is getting increasingly mushy. Spring is already setting foot in the valley below. There's no question about it, the skiing season is slowly drawing to a close. You're taking a trip down memory lane and are looking forward to next season. After all, anticipation is half the fun.


However this joy can quickly turn into frustration if your equipment is not fit for purpose at the start of the season. Let us show you how to care for your skiing gear and knock that frustration on the head. Pay attention to the old saying: better safe than sorry.
Skis and snowboards:
Once you've completed your last run of the season, clean the bindings with soap and water and let them dry thoroughly. Bear in mind that a clean binding will release correctly in the event of an emergency.
Touch up scrapes and surface scratches by using a so-called "Repair Candle" . You can find out how to use one here. You should also sand down any rusty edges before storing away the equipment, and this will prevent the rust from spreading further. Afterwards please seal the running surface and the edges with hot wax. You should also regularly inspect the edges for any rust during the summer, and sand down again if required.
It's also important that the brake handles don't snag, because otherwise the bindings remain permanently under tension. Although it may sound like common sense, you should not slacken the spring of the safety binding. This is because there is a high risk that you might then forget to re-tighten the spring. We'd rather not think about what might happen in that Event.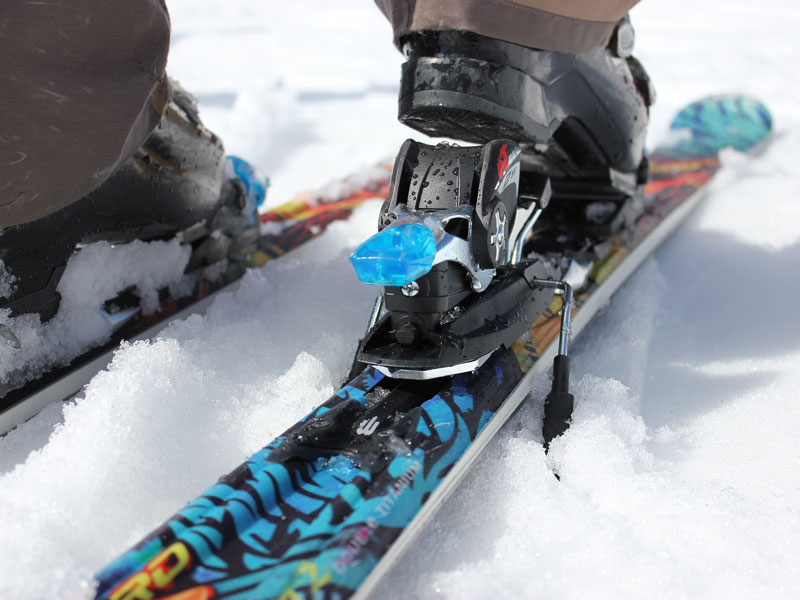 The best conditions for storage are a dry area with pretty constant temperatures. In other words, an area such as that provided by a Zebrabox ;). You must make up your own mind whether the planks are best kept upright or laid flat. The key consideration is that neither the skis nor the snowboards should lie surface down.
Skiing gear:
You should also ensure that the rest of your equipment is cleaned and dried thoroughly. Another good idea: check your gear and see if the gloves will last for another season. If the answer is no, then now is the ideal time to grab a bargain in the end of the winter season sales!
Skiing boots have a nasty habit of becoming a breeding ground for mildew. That's why you should clean and dry out the inner soles before storage.
So-called special-purpose garments, which we all wear when skiing, should only be washed occasionally. Otherwise they quickly lose their special-purpose layering. Therefore, only wash them if they are really grubby. Preferably, give them a good airing before stowing them away.
However, if you still want to wash your garments, then make absolutely sure that you do so using only a gentle washing powder and no fabric conditioner. Ensure you dry them thoroughly after washing and then treat them with a waterproofing spray.
If you follow these tips then no harm will come to your skiing gear during the summer break and you can look forward to a trouble-free and successful start to a new Season!