How to store LPs and VHS tapes correctly

Are your childhood memories on old video cassettes? Do you still have your record collection featuring your favourite cult bands? Or do you still buy LPs from record stores or Popsike? In any case, analogue recordings are sensitive, so the correct storage conditions are vital. Find out how to store your analogue media correctly and why you shouldn't rule out digitalising it.

Vinyl records
To protect your vinyl and make it more long-lasting, there are a couple of things that you need to remember. Covers and inlays are the first line of defence to protect your vinyl records from dirt. Dirt on the records or even high humidity can really affect the sound quality.
Cover und Inlay
Your vinyl is sensitive and needs to be protected. The cardboard cover alone isn't quite enough. Always use the inner sleeve to prevent dust from accumulating in the grooves of your record. If you have lost the inlay or want to use an outer sleeve as well as the cover, you can easily buy one online. Remember to insert the inner sleeve into the cover with the opening facing up to prevent your treasured LP from falling out.
Record collection
Don't stack your records, just place them vertically in front of each other. You'll be able to see your collection best if you store your records in boxes with the covers facing the front. Then you can browse through your collection like you would in a record store. However, if you have to stack them up then don't put any more than 20 LPs in the pile. This helps to prevent the LPs from warping. For the same reason, your records also shouldn't be pressed together too tightly. Leaving a bit of space between the records also stops them from getting damaged next time you're searching through your collection.
Climate control
Permanent high humidity and exposure to sunlight is a bad combination for vinyl records because it is the ideal climate for mould to grow. We recommend low humidity and protection from direct sunlight. Most basements are therefore unsuitable storage places because they are often too damp for the records.
Always remember to clean your vinyl before putting it in your record player. A vinyl record cleaning brush is ideal for this. Broken records need to be disposed of with hazardous waste because they contain a high percentage of oil. Of course, there are also lots of ways to upcycle vinyl records.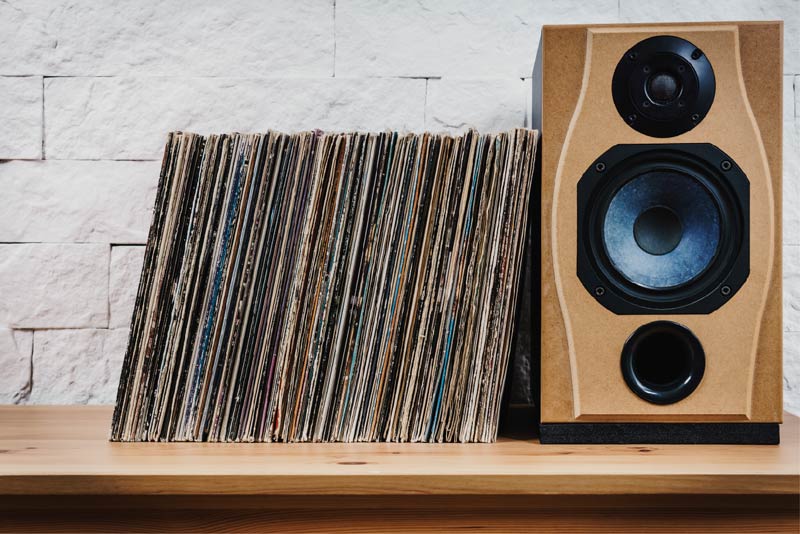 Eternal life for video cassettes
Don't want to spend lots of money to digitalise your VHS tapes or want to keep hold of your VHS collection? In order to achieve the maximum lifespan for video cassettes of 35 years, there are a few things you need to consider.
Heat and humidity
The two main culprits for destroying video cassettes are high humidity and heat. Excessive humidity can damage the magnetic strip. A damp basement is therefore not a suitable storage place for VHS tapes. Store your videotapes at room temperature and away from direct sunlight; otherwise, the magnetic media will degrade more quickly.
Dust and dirt
Dirt that settles on the magnetic tape can cause damage when the tape is played. The dirt can also impair the playback quality. However, the protective cover normally lives up to its name and keeps the tape clean.
Strong magnetic fields
Other notorious cassette destroyers are strong magnetic fields from surrounding equipment such as TVs, speaker systems, drills and transformers. VHS tapes should therefore not be stored near devices with an electric field. Vibrations can also cause mechanical damage to cassettes.
Digitalisation
Given that the lifespan of your video cassettes is around a maximum of 35 years, it's inevitable that you'll need to think about digitalising your analogue childhood memories and classic films. Even records can become damaged if they are stored incorrectly for a prolonged period, so it can be worth immortalising them in digital form.
To digitalise your LP collection, you just need a turntable with a USB output. There are lots of cheap options available. Make sure that your USB turntable doesn't just draw current from your computer, but is also recognised as recording equipment by the computer. If your turntable has a phono output, you can connect it as normal to the amp. The amp can then be connected to the "line" input of your computer's sound card, depending on whether your amp has an RCA output or jack output. For the technology novices amongst us, here is an explanation of the difference between RCAs and jacks.

In order to keep your childhood memories or wedding video safe, it's worth hiring a professional service provider. This doesn't cost the earth and normally includes post-processing, so complex tasks such as image stabilisation, noise suppression, flicker reduction, sound optimisation and the removal of any defects will all be taken care of. Therefore, we only recommend digitalising your tapes yourself for gifted tinkerers and keen hobbyists.
If your basement is too damp or you've simply just not got enough space, then individual storage units are available in a range of sizes and can provide the optimal storage conditions for your original analogue recordings. Here at Zebrabox, that's exactly what we provide! You can rent a storage unit from as little as one week and benefit from equally flexible cancellation terms.