Your kid moved out: what do you do with your newly gained space?

The time comes eventually: your children grow up and you have to let them fly. Whether they are off to pursue their studies or simply want to stand on their own. Even if letting go is often difficult to do, you should give your child this step towards independence, while providing the best support you can. But children moving out of the home can also be an opportunity for the home! (In addition to more peace and quiet) you finally get more space for other things. But what are these other things? What should you do with the newly gained space? We will show you some possible uses.

Realise your dreams
Have you always dreamed of a home cinema, a walk-in closet or your own music room? A place to withdraw where you can finally dedicate yourself to your passion? There are countless great possibilities for what you can do with the newfound space. Instead of filling the child's former room with knick-knacks and doohickeys again or using it as a guest room as always, maybe you can finally fulfil a long-held dream.
Action!
Enjoying films with the right sound and image right in your own home? Pure cinema feeling thanks to your own home cinema. You have to note a few things so that you get that perfect cinema feeling. We'll show you how to make your home cinema perfect!
Firstly, you have to decide whether you prefer a TV or a projector. The TV has the benefit that you can use smaller wall surfaces for this purpose, but the size is rather restricted. If you want to achieve a proper cinema feeling, we recommend a projector, because you can extend the image size across the entire wall of the room. Important: If the wall structure is rather rough, the image may look bumpy. In this case, we recommend purchasing a silver screen.
The lighting technology at the cinema is a complicated thing, but there are a few simple tips you can use to create a cosy film atmosphere in your own cinema. First you need blackout curtains so that the room can be darkened (especially crucial with a projector). In addition, you can create a cosy atmosphere by using LED strips (self-adhesive) from a DIY store. Adhere these along the baseboard or behind the TV (so that the light is reflected on the wall). Most of these LED systems include a colour change so that you can match the light to the film perfectly.
You also need to be sure you have good sound. It is best to ask your trusted electronics retailer for advice. We recommend a surround sound system, which distributes the sound throughout the whole room by using different speakers. Sonos offers a modern option to set up home cinema sound systems. The speakers are connected wirelessly and can be distributed throughout the room. The prices for this are also affordable.
The technology is undeniably important, but the feel-good factor is at least as important. A couch or comfortable armchair are a must. Alternatively, you can use pallets to make a stepped row of seats. You will find an example of this here. Add some cuddly blankets and lots of pillows in varying sizes. The pièce de résistance: Provide a popcorn machine next to the seats and a small refrigerator with fresh drinks.
You can see that the possibilities for a home cinema are almost endless. You will find even more inspiration on Pinterest.
Walk into Your Dream
For many (women), a walk-in closet has long been a dream and also represents a bit of luxury. Thanks to the newly gained space, such a luxury can be realised relatively easily.
One thing straight off the bat: A walk-in closet doesn't have to be expensive. If you really want to utilize every centimetre, you can have your dressing room custom-made (which certainly costs a bit more, but also doesn't have to cost a fortune). Alternatively, you may even be able to recycle old furniture. This will benefit not only the budget, but also the environment.
The simple option: If available, old cabinets can be reused. For example, you can place two wardrobes without doors opposite each other. One is against one wall and the other is against the other wall. In this way, you easily create a walk-in closet.
If you do not have any old cupboards or would like to leave the room airy, you can work with shelves and closet rods. Install the individual shelves and rods on the wall, ideally at reaching height. You can use sideboards to create storage space for smaller items, such as socks or underwear.
Tip: the top shelf should be installed above the closet rod. There are two reasons for this: Firstly, the surface offers space for boxes where you can store things that are rarely used (winter caps, shrouds, gloves, hats). Secondly, the shelf protects the clothes hanging under it from dust.
The appearance of a walk-in closet has a big impact on your well-being. That's why you must have a mirror. How about a rug in the walkway? This dampens noises and at the same time creates a cosy atmosphere. Make sure that you have good lighting for the mirror. If you have enough space, an armchair is also very inviting.
Bring Music into Your Life
Do you make music, play an instrument or like to sing? Then fulfil your dream of having your own music/rehearsal room.
The first question you should ask yourself is probably: Can my neighbours hear me? If you live in a block of flats or a housing estate, then specific equipment is probably unavoidable so that the neighbours are not disturbed by your music.
But there are also simple tricks that you can use to reduce the volume. Carpets and curtains help to absorb sound and avoid echoes. For anyone who really wants to get after it, we recommend sound insulation by using self-adhesive sound insulation.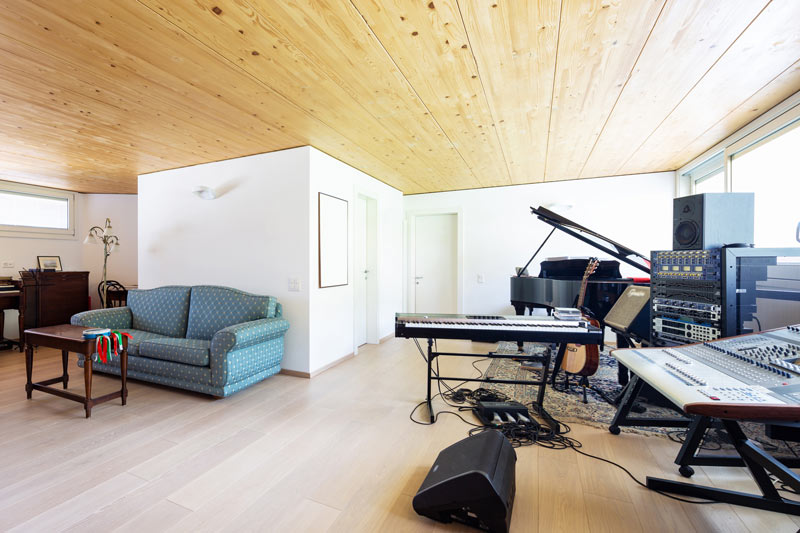 The advantage of décor in a music room is not just the pleasant factor, but it also absorbs additional sound. Presenting your record collection on the wall or hanging images from your favourite artists is twice as fun. An armchair or a small refrigerator with cool beverages can contribute to a feel-good atmosphere.
If you also write your own lyrics or develop new melodies, then a chill corner is perfect for you! Keep a corner of the room free and use a couch and tables to create a cosy creative zone.
Storage space thanks to modern self storage
You see, there are many ways to use the newfound space. No matter what you choose, see it as an opportunity for a great change. Use your living space creatively and don't waste space on things that you only use rarely, because that's what we're here for.
We have individual storage units from 1-50 m2 at the new locations in Switzerland. Thanks to constant temperatures year-round and low humidity, you can store your memories or seasonal sports equipment with us without having to worry. Of course, your storage unit is also secured by an alarm system and the facility is under video surveillance. Have we piqued your interest? Don't delay and ask our experts for a non-binding consultation.