How to keep your movers happy

The move is coming closer and instead of organizing a moving company, your friends agreed to help you. Even though a move can take an entire day, friends often don't expect any financial reward. In order to keep them happy on the moving day, we compiled some tips and ideas for you.
Good preparation
Good preparation and planning are essential for the moving day. If your helpers stood in front of closed doors on the moving day because you're still snuggling in your blankets and none of the boxes are packed, their motivation would certainly plummet.
Start preparing the move early on, so that all the boxes and furniture are ready for transport on the day of the move. Also make sure that the boxes aren't heavier than 25kg. Your friends' health and safety should be your top priority.
Organize enough moving helpers
It's very important to organize sufficient helpers. The more people join in to help you, the faster and less complicated the move and transport into the new apartment will be. If only two of five helpers arrive, it can make your friends lose spirit fast. It's best to plan additional helpers, so even if someone has to cancel at the last minute, there are still enough people.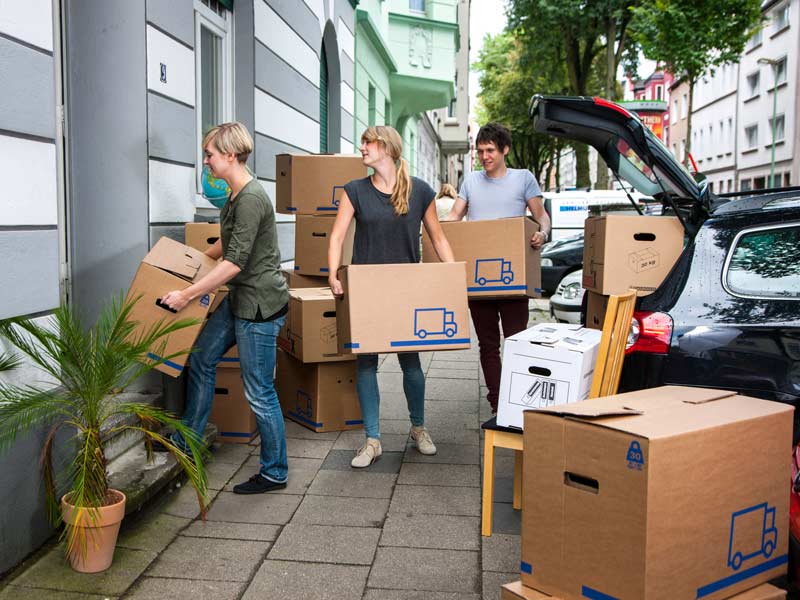 Label the moving boxes
Imagine your friends carrying the boxes diligently into the new apartment and putting them down wherever there's enough space and you running back and forth, because the boxes were put down in the wrong room. Or your friends asking you constantly where to put your stuff and you slowly becoming impatient.
There's an easy trick to avoid this: Label all the boxes and furniture with colored stickers or chalk them up. Do the same thing in the new apartment with the different rooms, so that everyone knows where to put the boxes.
Keep a positive attitude
This advice might sound simple but can be very effective during a relocation that is often coupled with stress and hard work. Be positive, calm and appear in a good mood. Of course, a lot of things can go wrong during a move. However, solving problems with a positive attitude will make the entire day easier for all of you.
Enough rest and food for your helpers
Hungry and thirsty people can lose their cool rapidly and keeping a good mood will prove difficult. So, extremely important: plan enough breaks and provide ample beverages for the whole day. You can fill thermos flasks with coffee and hand out bottles of water and soda. That way you also don't need to worry about cups.
Also, prepare enough food. In the morning sandwiches or croissants and coffee will make your helpers happy and give them a first boost of energy. At noon, you can refuel with a good meal. Of course, you don't need to serve your friends an extravagant menu; offer them potato salad and sausages for example. Pasta or sandwiches are also a good idea.
Once you managed the move, don't send your helpers away. Instead drink a toast to the work you did. You can also order pizza or if the weather allows it, heat up the grill.
The move should be fun
Working with loud music is just easier. Don't pack your loudspeakers at the very bottom of your moving boxes. Instead let them stay in the apartment, so that you can transport the boxes and furniture to motivating rhythms. Consider your friends' music taste, when compiling the soundtracks.
If you want to prepare a small surprise for your friends, you can prepare a game. Hide sweets and presents in the boxes. Once the boxes are in the moving van or in the new apartment your friends can take the presents from the boxes they carried.
After the move
To say thank you to your moving helpers properly, you can invite them to dinner in your new apartment and go all out when cooking. Of course, you can also combine it with the house warming party. That way your friends can see what the newly furnished apartment looks like and toast to a successful move with you.
Content provided by MOVU. The established startup has since organized more than 15'000 removals and is the largest relocation platform in Switzerland with more than 3'000 customer requests per month. Are you moving soon? Receive 5 non-binding quotes here.