Completely digital – the new booking process

The demand for digital services has been growing exponentially for several years now, and even more so during the coronavirus crisis. So the timing could not be better. At the beginning of September 2020, Zebrabox launched its new booking process, which enables customers to book a storage unit from the comfort of their own home at a time that suits them. The gradual rollout of this new process started with the Zebrabox sites in the greater Zurich area.

How has it gone so far?
Until now, customers were able to compare different prices and sizes online and reserve their individual storage unit. The customer was then contacted to discuss the details of the contract before the contract documents were then sent out via e-mail. So, the process was already partially digitised. However, finalising the contract still required processing by an employee, which could potentially lead to time delays.
Book from home at any time
The new booking process is UX-optimised, i.e. optimally tailored to the user. Since the beginning of September, customers have been able not only to reserve a storage unit conveniently, whenever and from wherever they choose, but also to finalise their booking online. As before, customers can compare the prices of different sizes and locations online. After selecting the storage unit, payment can be made easily using one of the available payment providers – even TWINT is supported. After completing the payment, the customer receives all the contract documents and access instructions by e-mail at the same time. The paperwork is completely eliminated.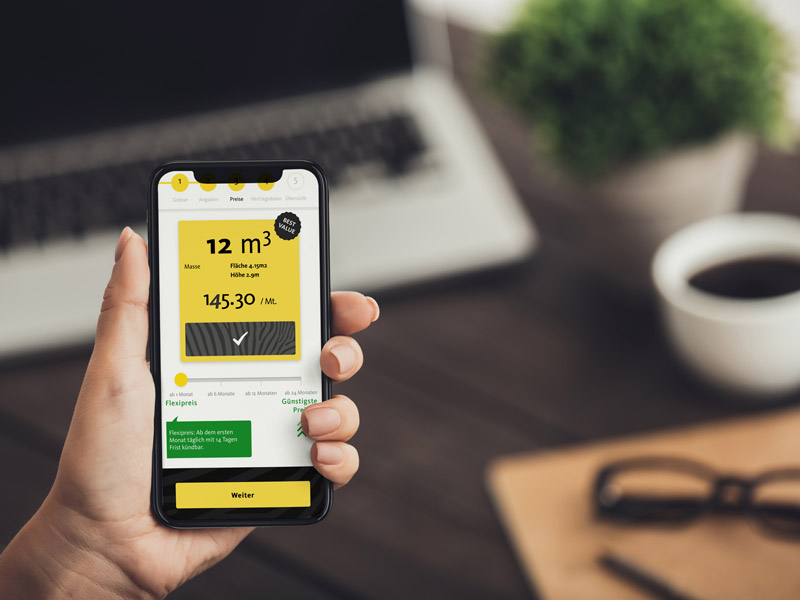 Security for customers and stored goods
It is important to us that our tenants are identity checked so that everyone feels safe and comfortable in the warehouses – even if there alone at 10 p.m. Until now, each customer was verified in person or via another channel. In order to avoid this, we now offer online identification after payment as an alternative. This is done using software from PXL Vision. It is extremely straightforward to use, does not require a login and takes almost no time at all. After completing the verification process, the customer receives their personal access code via SMS and can start using their storage unit immediately.
Pioneering ID checks
With this online verification, Zebrabox is taking a pioneering position at SME level. Up to now, online ID checks have been associated mainly with the big players such as banks and telecom providers. Zebrabox is therefore setting new standards, especially in the self-storage sector.
MyZebrabox
More processes will be digitised in the coming months thanks to MyZebrabox. Customers will be able to complete most of their administrative tasks online in their personal MyZebrabox profile, if desired.
Digital does not mean impersonal
For Zebrabox, going digital does not mean less customer care. These new opportunities allow us to offer our customers more convenience and flexibility in an increasingly digitalised world, without sacrificing customer service. For online bookings, we contact each customer personally in order to obtain feedback and clarify any uncertainties. At Zebrabox, our staff continue to support our customers!