Storage area for sales representatives
Do you need storage for your sales representatives? Are you always on the go visiting customers and are tired of the chaos in your garage and waiting for your deliveries? We help many sales representatives to be more efficient.

Free goods receipt
Focus on your customers and the sale. Have your goods delivered to Zebrabox. You will not lose any valuable time on logistical matters. We will receive your goods free of charge and inform you by text message once the delivery has arrived. If desired, we will also store the goods right in your storage unit. Then you can conveniently go to your storage space whenever you have the time. In addition to our locations in Basel, Bern, Horgen, Ittigen, Lausanne, Schlieren, Spreitenbach, Therwil, St. Gallen, Villeneuve, Winterthur and Zurich, we also have solutions for your sales representatives across Switzerland.
You can store your valuable goods with Zebrabox without worrying. Use our website to find the right storage unit size or get some help on the telephone from our experts at +41 (0)848 932 722.
Storage solutions with optimal conditions
You will find the ideal storage conditions for your goods with Zebrabox. All of our storage units have a constant temperature and low humidity so that we can store sensitive goods too without the customer having to worry about them. With Zebrabox, you also don't have to make any compromises when it comes to security. Each storage unit has its own security alarm and the entire facility is under 24-hour video surveillance.

Storage solutions with maximum flexibility
With Self Storage, you can lease a personal storage unit for your company. With Zebrabox, you can choose from very small (1m3) to very large (50m2). We offer storage for as little as a week so that you also have short-term solutions available to you. You also benefit from attractive discounts for long-term storage. You have free access to your storage unit seven days a week, in most cases from 6 am to 10 pm. If necessary, you can also have access 24/7.
Do you have several employees who should have access to the storage unit? No problem! Simply apply for several badges for your employees.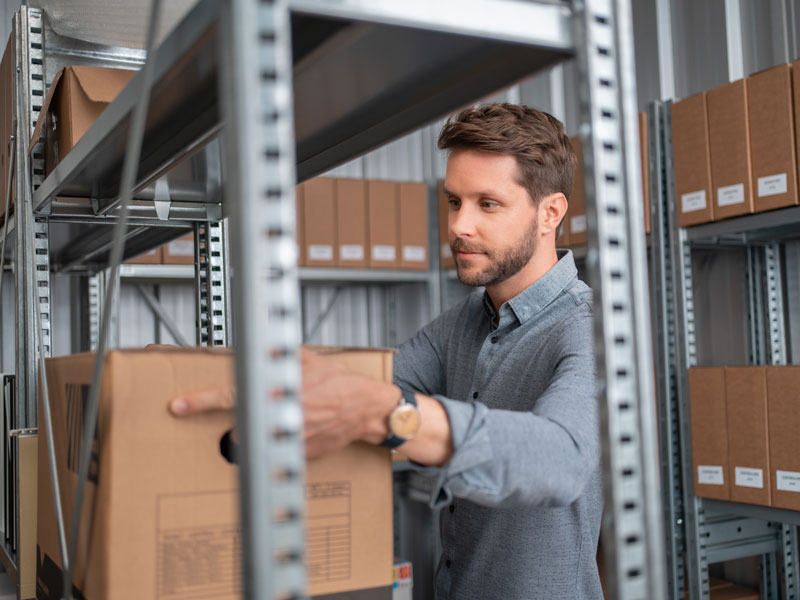 Ideal delivery conditions
All of our locations have ideal delivery conditions. The delivery locations are covered so that you can stay dry while loading and unloading your vehicle, even in wind and bad weather. In addition, goods lifts and trolleys are available to you free of charge at every location to transport your goods.