Flexible storage solutions in Bern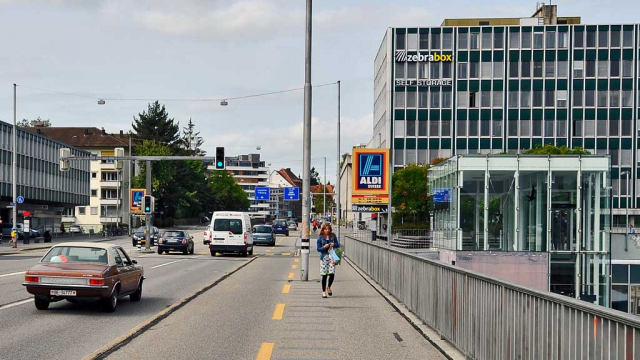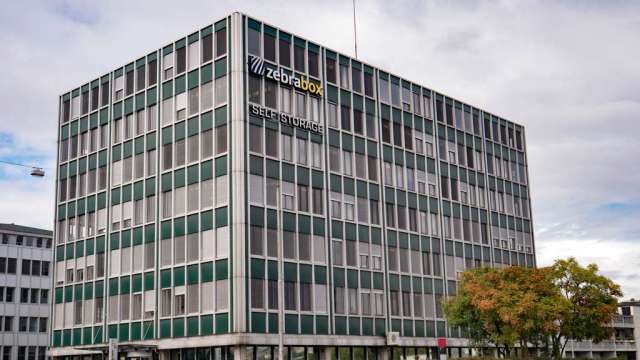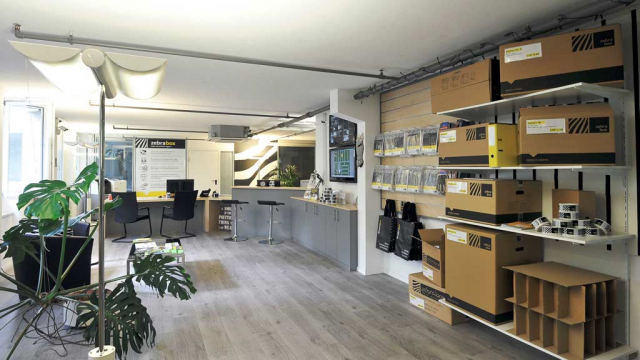 Zebrabox Bern
Eigerstrasse 82
CH-3007 Bern
Tel. +41 (0)31 371 15 15

Opening hours reception:
Monday to Friday 9:00 - 18:00 h
Saturday 9:00 - 12:00 h

Access to storage:
Daily 6:00 - 22:00 h (24h on request)
Cellar bursting at the seams and hardly any room in the garage for your car? The Zebrabox branch in the centre of Bern, the capital of Switzerland, has more than 900 individual storage units over three floors to help solve your storage problem. The best bit: all of the floors are easily accessible by car.
Want to know what a storage unit looks like? Check out our virtual tour.
All advantages of the Zebrabox Bern at a glance:
In person consultation at location
City centre location near Köniz, Weissenstein or Mattenhof
Covered loading and unloading
Loading ramp / lifting platform for trucks
Organization of your move / transport
Reception of goods
Rental of van on site
Packing material on site
Free parking
Fair billing (billing on a monthly basis, not on a 4-week basis)

«At Zebrabox Bern we want to give you the best possible advice. We consider all of your needs and questions and want you to leave here with a smile.»
Peter Kiener
Store Manager Bern
Reasons to trust Zebrabox
Reasons to trust Zebrabox
Free access 7 days a week
Free access 7 days a week
Early bird or night owl? Our storage units are both. You can benefit from free access to your storage unit 7 days a week.
Individual and private
Individual and private storage units
What you store is only your business. Our storage rooms guarantee your privacy.
Security for you and your belongings
Security for you and your belongings
At Zebrabox you will feel safe! Every single storage unit is secured with an alarm and every facility is video-monitored 24 hours a day.
Dry and heated storage rooms
Dry and heated storage rooms
Do you own delicate goods? Our storage units are dry and heated, so that your goods will stay good both short and long term.
Rental from 1 week
Rental from 1 week
Do you need your storage unit only for a short time? Don't worry, at Zebrabox you can easily rent your storage unit from 1 week.
How to find us?
Directions by car
Exit Bern-Ostring, direction Zentrum, follow the camping signs until you reach the Monbijou bridge. After the bridge immediately turn right into the Aldi parking. You will find the Zebrabox reception opposite the Aldi-entrance.
Directions with public transport
Tram N°9 (from the main station, direction Wabern). Take bus N°28 (from Eigerplatz) until Monbijoubrücke. You will find Zebrabox in the "Brückenkopf" underneath the Monbijou Bridge opposite Aldi.
Convenient storage in Bern
Zebrabox Bern has an excellent infrastructure, which makes loading and unloading exceptionally easy. The three floors are all covered, easily accessible by car and delivery by lorry is possible as well. Lots of trolleys and goods lifts are available for your use on site so there is no need for heavy lifting.
The storage units in Bern near Monbijou, Liebefeld and Kirchenfell are maintained at a constant temperature and have a low humidity level throughout the year to guarantee the ideal storage conditions for your furniture. We ensure maximum security. So that you feel confident storing your belongings with us, each storage unit is equipped with an alarm and the entire facility is under constant video surveillance. You have free access to your storage unit 7 days a week.
No matter what your plans are, we want your stay at Zebrabox to be as flexible as possible. It doesn't matter whether you want storage for just a week or for an undefined period of time, we adapt to your needs. Not sure how much space you need? Lots of people have the same problem, that's why Zebrabox offers a personal advice service to all of our customers. Our on-site team are happy to help you find your ideal storage unit. Contact us by phone on +41 (0)31 371 15 15 or find your perfect Zebrabox online.
Additional services
Want to enjoy a stress-free move? Then let us organise your move for you to save you time and give you peace of mind. If you would prefer to move by yourself, then don't hesitate to contact us about our Zebrabus removal vans. As a Zebrabox customer, you get an additional 20% discount.
Running out of packing materials? No problem, in our Zebrashop you will find everything you need to store your belongings. Whether you need boxes, bubble wrap, tissue paper or protective covers, you can buy everything on site.
We are also more than happy to accept deliveries for you. Get your parcels delivered directly to our address, we will store them in your storage unit and send you a text to let you know that they have arrived.