We rent storage rooms - and much more

Zebrabox offers around 5900 storage rooms across 10 sites in Switzerland. You can rent your personal storage room for one week or for a longer, unlimited period, with a choice of room sizes from 1 to 150 cubic metres (floor area about 1 to 50 sq. m).

Individual storage rooms – light, dry, heated, alarmed and CCTV monitored. That's the Zebrabox offer. But that's not all: in addition to storage rooms, we can provide useful services that might be overlooked at first glance. Here are the most important ones:
Trolleys
Our Zebra trolleys are available at all entrances and exits to help transport your items from your vehicle to your storage room (or vice versa). No more tiresome lugging! Simply load up the trolley and head off to your storage room.
Roller pallets
Our roller pallets are ideal for moving heavy or bulky items – and of course goods stored on pallets! These are also available for you to use.
Free parking spaces
You can park for free for the duration of your visit at all Zebrabox sites. We've also made sure that all parking spaces are as close to the entrances and exits as possible, making transporting your items easier. All parking spaces are marked accordingly and are reserved for you at any time.
Covered loading ramps (also suitable for lorries)
If you arrive with a larger vehicle, you're welcome to use our covered loading ramps. Loading ramps are ideal for the loading and unloading of lorries. All our ramps are fitted with lifting platforms and offer direct access to the storage facility. Our on-site team will be happy to give you more information as well as directions to the ramps.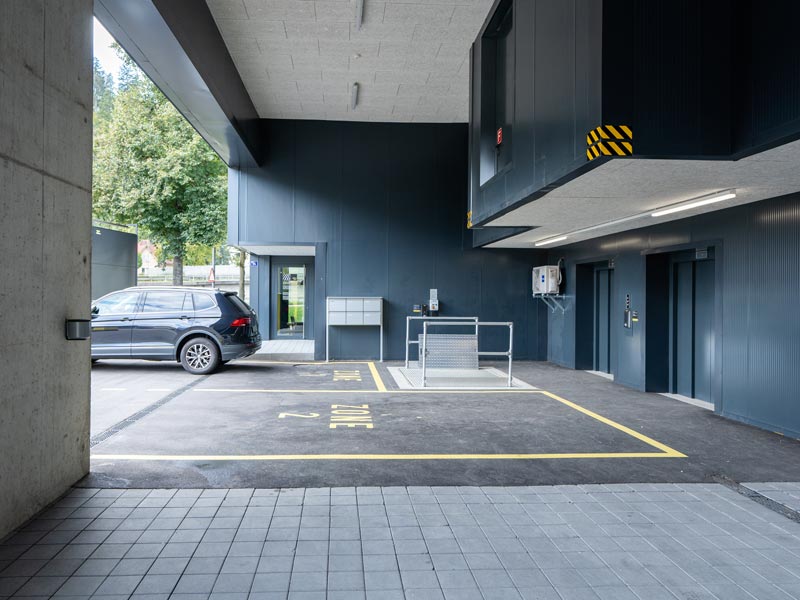 Help with your moving project
Our extensive experience has given us access to a large network of removals and transport specialists. At your request, we can help organise your moving or transport project and put you in touch with our reliable partner companies. We're ready to help with any size of project – from a move abroad to the transportation of a piano.
Insurance for your stored items
All items stored with Zebrabox must be insured against fire, water and theft and you can easily arrange your insurance through us. Doing so means your insurance policy is tied to your rental agreement, so you won't need to cancel your insurance separately at the end of the rental period.
Receipt of goods for business customers
Our business customers can arrange to have purchased goods delivered directly to Zebrabox. We'll receive your items, take them to your storage room and confirm receipt via email or by telephone. Our on-site customer service team will be happy to tell you more about the process for receipt of goods at Zebrabox.
Pick & Pack
For business customers, at some sites we can also carry out picking and packing of customers' orders. We'd be delighted to have a personal discussion with you to tell you more about this extra service.
Do you have any questions about our storage services? Simply get in touch using our contact form or contact us directly at one of our sites. We look forward to hearing from you!