Archive storage
Don't have any more space for your archives in your office? Is your basement too damp or too unsafe for your confidential files? Is your filing cabinet overflowing? You can store your documents securely and discreetly with Zebrabox.

Optimal file storage
Either very compactly in an inactive archive or on shelves that guarantee quick access to business documents at any time. You still have control and incur no additional costs, should you need anything. With us, you can always access the storage unit for free, seven days a week. If necessary, we can also organise the confidential destruction of documents for you after several years so that you don't have to worry about anything. Many law firms, doctors or other companies use this service we offer. Call us at +41(0)848932722 and we will be happy to create a custom offer for you.
Zebrabox offers you individual and professional archive storage in Basel, Bern, Horgen, Ittigen, Lausanne, Schlieren, Spreitenbach, St. Gallen, Therwil, Villeneuve, Winterthur and Zurich.
Custom storage solution
You can lease a personal storage unit for your files archive with Self Storage, Selfstorage or Ministorage. With Zebrabox, you can choose from very small (1m3) to very large (50m2). For short to long periods of time. You have access seven days a week, in most cases from 6-10pm (24/7 on request). Every Zebrabox has its individual security alarm and is concealed from view. In addition, our facilities are also video monitored.
You can store your valuable goods with Zebrabox without worrying. We offer optimal storage conditions for your documents thanks to climate control year round. Constant temperatures and low humidity throughout the year ensure these optimal conditions. In addition, if desired, we offer the option of handing out several keys. In this way, your employees can go to the files storage independently of you.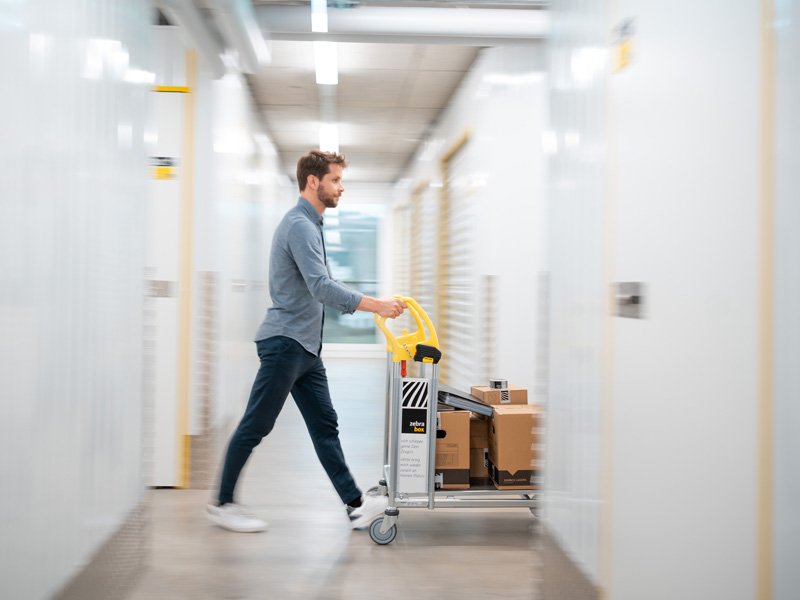 Different types of archive storage
An archive which is active is regularly administered, i.e. access to the files and documents must be guaranteed at all times. In certain cases, the presence of a workstation for smaller tasks like packing, filing, copying etc. is advantageous. For this, it's a good idea to factor in sufficient 'manoeuvring space'. Corridors must be allowed for, as all files must be easily reachable at any time. At Zebrabox, you can always view the files for free and minor tasks such as packing, stapling and sorting are also permitted.
A passive archive is a closed archive to which no more files are to be added, and from which no files usually need to be taken. The legal obligation to preserve records for 10 years makes passive archives necessary, entailing high fixed costs for most companies. By archiving externally at a self storage provider, a company can use the freed up space more sensibly and productively.
Besides archives which principally exist to satisfy the legal obligation to preserve records, a third type of archive also exists: the historical archive. This form of archive is used for preserving documents pertaining to a company's formation, as well as special or historical contracts from a company's past. Often these documents have intangible value and are archived outside of the legal obligation to preserve records. For such valuable documents the focus is on providing constant, dry room conditions, because they should be kept in good condition for a long time.

Additional services
Zebrabox not only offers you space for the respective archive, but also offers several additional services. These range from the sale of suitable shelf units or entire archive systems, to the sale of additional products such as archive boxes and the like.
There are usually diverse facilities on site to assist the transport of files from the delivery vehicle to the storage unit. These might be simple trolleys or palette rollers. Having direct, easy access also makes tending the file storage easier.
If desired, we will even take care of securely destroying and removing old or unneeded documents.